Created Date: January 15th, 2021
Comment 0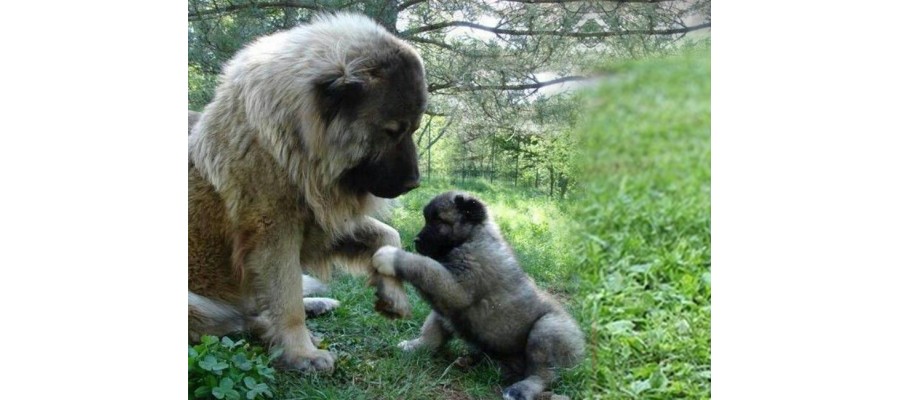 "Sit"
Teach your dog how to "sit".
A sitting dog won't misbehave; it will calm it down and make it feel save.
Teaching your Caucasian puppy to "sit" is not very difficult.
Get some small, soft treats.
2. Hold the treat between thumb and index finger and hold it close to your dog's snout. This way, you will get its attention. Your Ovcharka puppy will focus on you (and the treat, of course).
3. Move the treat slowly and hold it above the puppy's head. Hold it there. The dog will lift its head to reach the treat; his/her rear-end will go down. Say "Sit" straight away. This way, your dog will learn to sit when you say "Sit". After a little while, he/she will understand the word, and you can even say it beforehand. Once the dog sits, praise him/her and give the treat.
Sit: More tips
In case this doesn't work straight away...
If your Caucasian tries to jump: hold treats a bit lower. Don't pull them away when he/she is lifting the head.
Your dog is moving backwards instead of sitting:
Try to exercise close to a wall, so the way back is blocked.
You can also try to move your dog back (gently) into a sitting position. Don't forget to praise and give the treat.
Is your Caucasian too excited?
Please do the same exercises after taking him/her out for a walk or after a meal.
"Here!"
Come back
Are you thinking about letting your Ovcharka off the lead when taking him/her out?
Then the teaching of the "Come back" command is extremely important. It requires regular and consequent practice. But all the effort is worth it! - With this command, you will avoid many difficult situations when taking your "big baby" out.
Always remember, your Ovcharka and its intimidating size. What would you think if you went out for a walk and all of a sudden, you see this "bear" running towards you?...
Controlling such a large dog is a must!
It can also save your dog's life.
1. Get a relatively long leash and make sure there aren't any distractions.
Try it at home in your garden first and later in a quiet place without any distractions. Apart from the long lead, also have some treats ready as a reward (only if your Caucasian does its "job" right).
2. train on the long leash
Put the leash on your Caucasian and tell him/her to "Sit".
Hold the leash in one hand, and then slowly go backwards, moving away. At the same time, say "Here". If your dog follows you, immediately reward praising and giving a treat. Repeat several times.
Vary
Once the dog has understood the first exercise, try another version. This time don't walk backwards, instead duck down, and while commanding your dog to "Here" widely open your arms. Once your dog has come to you, again praise him/her enthusiastically. Once the dog follows the command reliably, try exercising off-leash. Next, try out different locations (without distractions).
4. Off-lead practice
All going well?
Start taking your dog out. Practice all exercises in a safe, enclosed, off-the-leash environment. Please take your time as the training can take quite a few weeks or even. You have to be confident that your Caucasian fully understands what you are expecting from him/her. Once you have reached this level, continue to work outside - please make sure, you and your dog are in a safe off-lead area.
Always make sure, every exercise ends successfully. This way, you will both be looking forward to the next training session. In case your puppy doesn't fully understand at first, don't give up but take a step back instead. Just practice a little bit more.
Please note:
Your voice
Make sure you always sound clear and encouraging - even in tricky situations. If your dog notices any panic, frustration or anger, it will get very confused. Don't scold him/her in case it did something wrong at the beginning. Instead, always reward and praise whenever your puppy gets it right.
Make sure your dog really understands
Your dog loves you and will often just come back to you because he/she wants to be with you - and not necessarily because he/she understands what you are saying. Practise as much as possible at different places so the dog understands the command.
Stop jumping
Many dogs jump up on people. Mostly just of excitement and to say hello. Maybe some people who are not afraid of dogs find it funny when a little, chubby Caucasian Shepherd puppy is jumping at them, but once the dog gets older, it's not fun anymore...
Most people (including yourself) will find it very scary or at least annoying.
So especially in the case of a giant Caucasian Shepherd, you have to stop this habit right at the beginning.
Here's how:
- when the dog is starting to jump up, walk slowly towards it - this will surprise him/her;
- the dog is jumping - completely ignore it, he/she will calm down;
- praise your dog when it does not jump.
If possible, practice with friends who like dogs.
Hold the puppy firmly on the leash, so if it tries to jump, you can gently pull it to the side.
Ask your friends to ignore the dog. It will eventually calm down - then praise it enthusiastically for its good behaviour.
Stop biting
When your puppy was little, nearly everything it did was sooo cute and just adorable.
Well, as the dog gets older, bad habits (nibbling, biting etc.) need to be stopped; otherwise, they will become big problems.
Why is this important?
Almost all puppies are enthusiastic little biters.
But if you don't stop this behaviour or even encourage it, including while playing, your dog will eventually hurt somebody. So, it's best to eliminate any nasty behaviour biting straight away before it becomes a problem.
What to do
Every time he/she bites, shout "Ouch". After that, absolutely ignore the puppy for at least thirty seconds. This will surprise your puppy so; it will let go of you - taking away your attention and affection is quite a punishment. Eventually, the dog will understand that nothing good will come back if he/she bites, and it will stop biting.